Sterling Lotus Necklace with large Freshwater Pearl Drop by Destarté
https://www.etsy.com/listing/1451507102/custom-sterling-silver-lotus-flower
People have coveted pearls as symbols of wealth and status for thousands of years. A Chinese historian recorded the oldest written mention of pearls in 2206 BC.  Some sources of natural pearls are the Persian Gulf, the waters of Ceylon (now Sri Lanka), Chinese rivers and lakes, and the rivers of Europe.  Pearls are treasures from the Earth's ponds, lakes, seas, and oceans, and they've always embodied the mystery, power, and life-sustaining nature of water.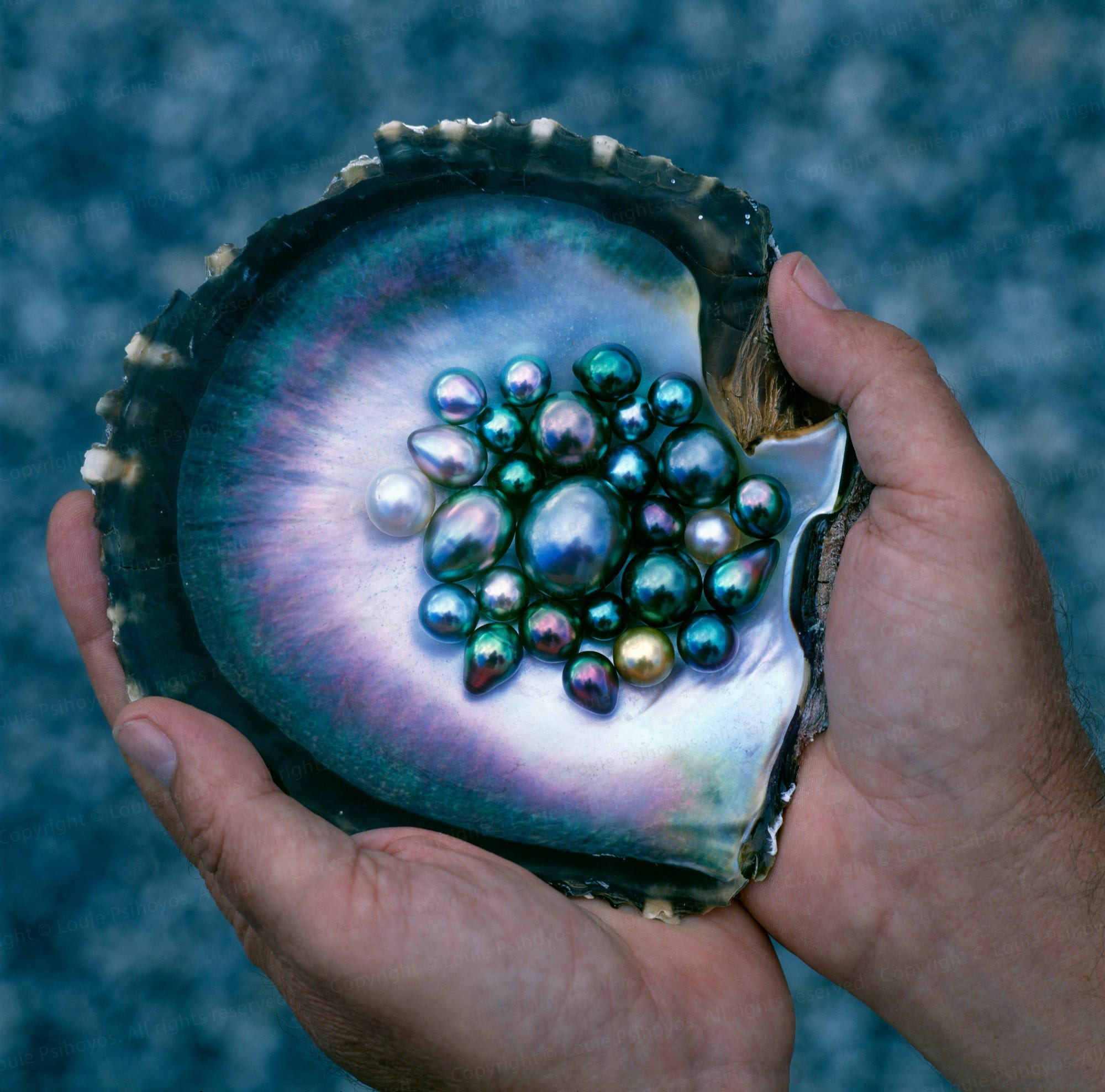 Tahitian Black Pearls
Pearls occur in a wide variety of colors. The most familiar are white and cream, but the palette of colors extends to every hue. Natural pearls form around a microscopic irritant in the bodies of certain mollusks. he most familiar colors are white and cream (a light yellowish brown). Black, gray, and silver are also fairly common, but the palette of pearl colors extends to every hue. The main color, or bodycolor, is often modified by additional colors called overtones, which are typically pink (sometimes called rosé), green, purple, or blue. Some pearls also show the iridescent phenomenon known as orient.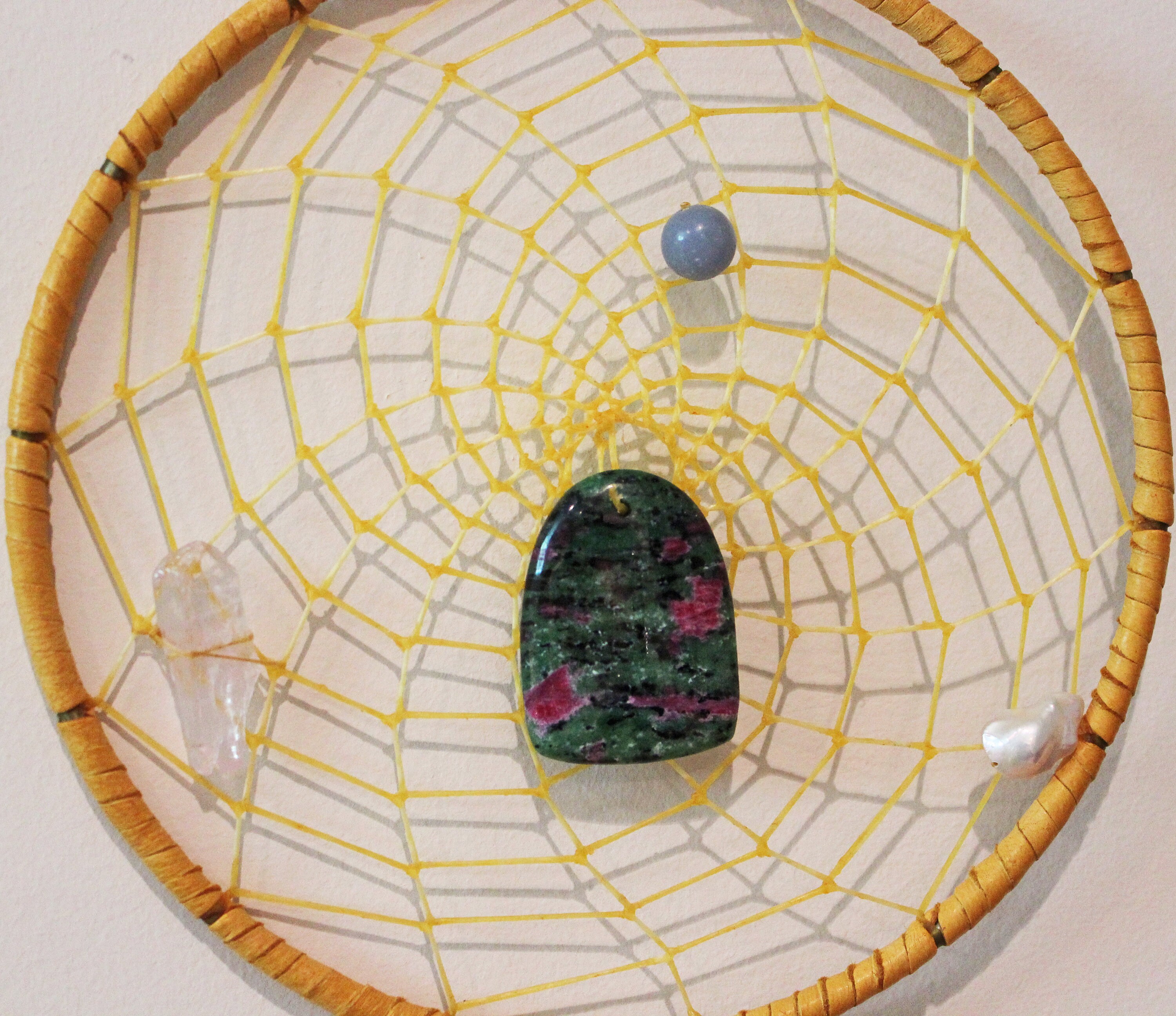 Custom Dreamcatcher with Pearl, Ruby Zoisite, Clear Quartz and Angelite
https://www.etsy.com/listing/97346640/9-custom-dreamcatcher-with-crystals
The spherical shape of some pearls led many cultures to associate this gem with the moon. In ancient China, pearls were believed to guarantee protection from fire and fire-breathing dragons. In Europe, they symbolized modesty, chastity, and purity.
Pearl is a symbol of peace and purity.  Pearl is known as the "Gem of sincerity";  accessing ones truth, integrity and loyalty.  It symbolizes faith, charity and innocence.  Pearls provide an opening in the self for higher guidance and wisdom.  They have been used to treat digestive maladies and increase fertility.  It brings in calm, love and nurturance.  Pearl helps to bring reassurance to the mind, courage and self-confidence.  It is said to bring good fortune, prosperity and wealth to the owner.  Pearls are considered to be the only gems born from a conscious, nurturing process, as their origin is a result of a living-Being choosing to self-nurture. It's no surprise why pearls have a centuries-long reputation for their healing properties.  Pearl helps to open you to Spiritual Awareness, aiding in relaxation for meditation and Divine Communication. Pearl improves the digestion of events, focuses attention in a balanced emotional manner, reduces irritability and is especially soothing in combination with colored gems.  It has been used to ward off evil and protect against poisons.  Pearls stimulate the Heart Chakra.  They are known to be representative of powerful feminine energy, a creator of life and worlds.  As energetic magnets, pearls can deepen our connections to our core natures. When used in rituals, they can induce loving transitions, feelings of positivity, and vast earnestness in all of our relationships.  Pearls have an affinity for Cancer and Gemini and vibrate to the number seven.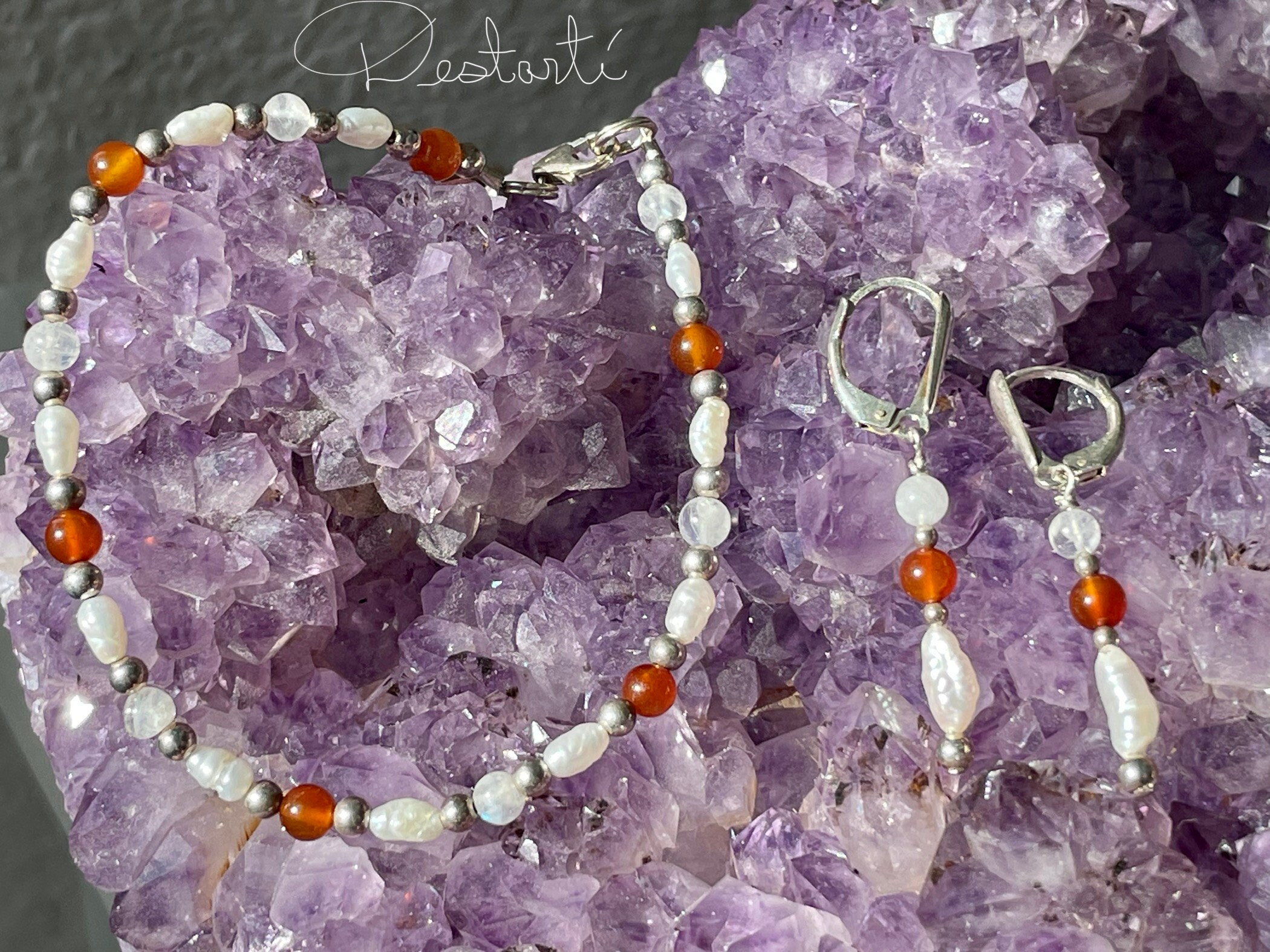 Cancer Astrology Jewelry by Destarté 
https://www.etsy.com/listing/76013764/cancer-astrology-bracelet-with-sterling
The gem for the Moon, the Pearl, gives comfort, calmness, mental peace, and helps keep the mind contented and in the heart. Pearls strengthen your blood and lymph, and particularly increases the flow of life force through the body, thereby improving your health and removing any feeling of deadness or lethargy in your body and limbs, while also increasing the beauty and luster of your face. Pearls also increase the white blood cell count and increase the strength of your immune system. For women, Pearls are particularly beneficial for promoting the health and wellbeing of the feminine hormones. Pearls are also of benefit to improve your family and domestic life, and increase your mother's wellbeing and your relationship with her.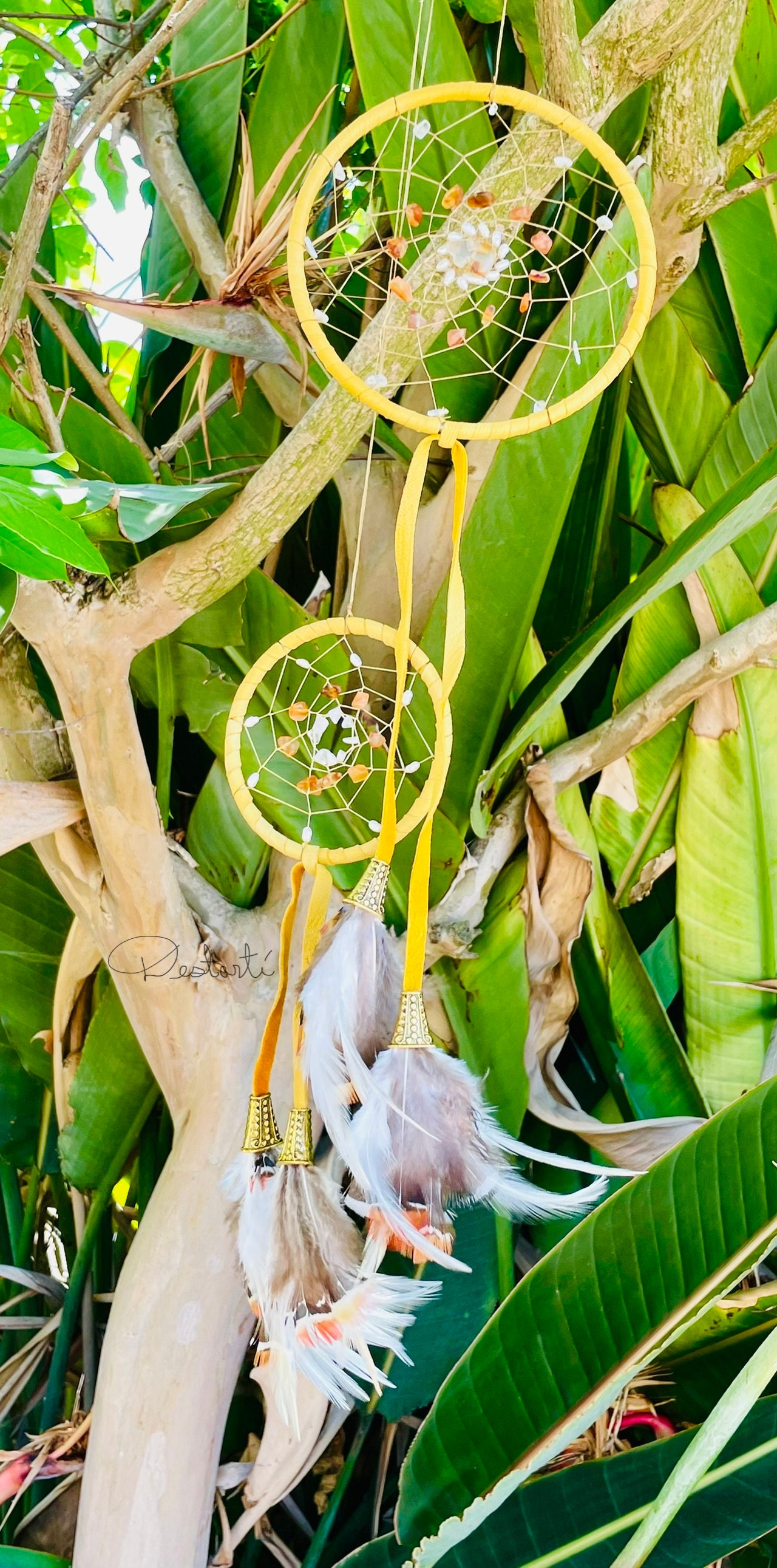 Cancer Astrology Dreamcatchers from Destarté
https://www.etsy.com/listing/83921739/cancer-5-inch-astrology-dreamcatcher
PEARL Birthstones
                            Common Birthstone, June 
                            Shaman Birthstone, Gemini 
                          Astrological Birthstone - Cancer
MOTHER OF PEARL: Mother-of-Pearl helps to stimulate intuition, sensitivity, imagination, and adaptability. It helps with clarity in decision making. Shiny pearly white. 
MOTHER OF PEARL 
                    PINK OR WHITE 
                                         INCREASES POTASSIUM, MAGNESIUM,
                                         CALCIUM, HOUSEHOLD EFFICIENCY. 
 MOTHER OF PEARL 
                    BLACK 
                                         SOFT ORGAN TISSUE REGENERATION,
                                         EMOTIONAL PROTECTION. 
 MOTHER OF PEARL 
                    BROWN 
                                         DIGESTION AID, INNER STRENGTH. 
MOTHER OF PEARL 
                    PINK 
                                         SINCERITY, GOALS AND ATTITUDE.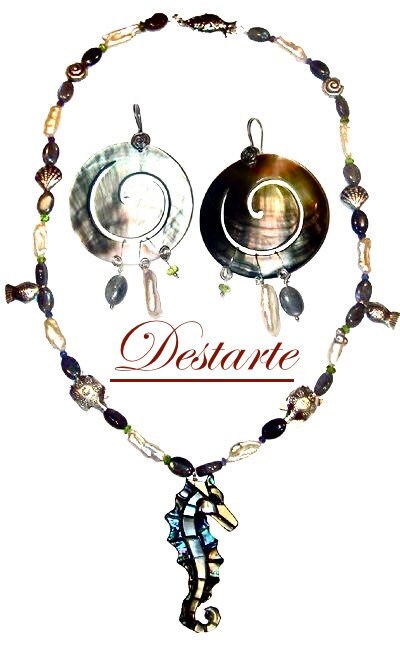 Mermaid's Magic custom jewelry set with freshwater pearls, mother of pearl Sea Horse, Labradorite, Tanzanite, Peridot and Sterling Silver Turtles, Fish and Shells